General
- posted on 13. December 2019
by Hueber
Comaniac reveals the artwork for their upcoming third studio album "Holodox".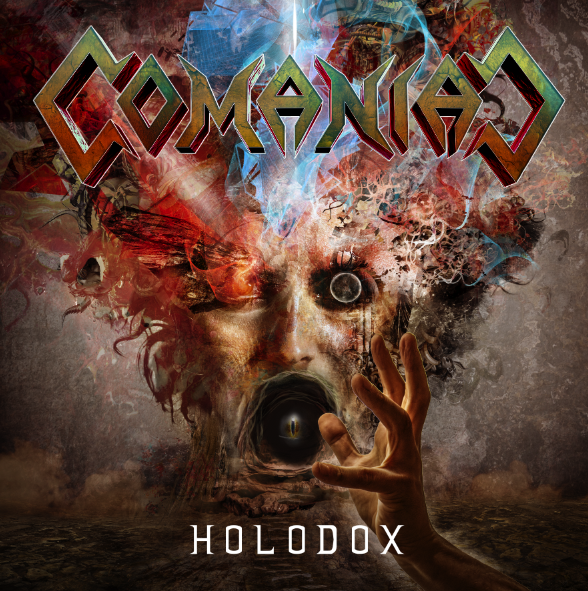 The artwork was designed by Ken Coleman while the album was mixed by Tommy Vetterli (CORONER) at New Sound Studio. Its worldwide release is scheduled April 3rd, 2020.
Comaniac is playing an exclusive album release show on April 11th, 2020 at KiFF Aarau, Switzerland. Tickets will soon be available.
Jonas states: "Holodox is a fictional word I came up with – deviated from the prefix 'holo' (greek: holos, whole) and the suffix 'dox' (greek: dox, opinion). Holodox stands for a person's final belief, an idea to answer all questions, a rise from personal stuggle onto a meta-level. This album takes you on a journey through different states in life dealing with fear, loss and the hopeless path towards perfection."
Music Player
Past Shows
29/11/19

Frauenfeld

at

Kaff

23/11/19

Schaffhausen

at

Metal Festival Schaffhausen

18/10/19

Luzern

at

Bruch Brothers

21/09/19

Bern

at

Graffiti

12/09/19

Olten

at

Coq d'Or

11/09/19

Mannheim

at

7er Club

10/09/19

Essen

at

Don't Panic

08/09/19

Göppingen

at

Zille

07/09/19

Königsee

at

Kulti

06/09/19

Hamburg

at

Bambi Galore

05/09/19

Sankt Vith

at

Triangel

24/08/19

Lenzburg

at

Met-Bar

17/08/19

Aarburg

at

Musigburg

19/07/19

Unterschächen

at

Rüchä Rock Openair

17/07/19

Zürich

at

Komplex Klub

05/07/19

Winterthur

at

Gaswerk

04/07/19

Luzern

at

Sedel

24/05/19

Sursee

at

Kulturwerk 118

18/05/19

Gladbeck

at

GMBB Open Air

17/05/19

Koblenz

at

Florinsmarkt

10/05/19

Saanen, BE

at

Mad Muni Festival

04/05/19

Beringen

at

Kane's Karaoke

12/04/19

Bellinzona, TI

at

Peter Pan

23/03/19

Saint-Maurice, VS

at

Manoir Pub

01/12/18

Aarau

at

Flösserplatz

26/10/18

Basel

at

Sommercasino

13/10/18

Dornbirn

at

Altes Schlachthaus

02/09/18

Ryogoku, Tokyo

at

Sunrize

26/08/18

Shinjuku- Ku, Tokyo

at

Hatsudai Wall

25/08/18

Shinjuku, Tokyo

at

Earthdom

24/08/18

Yokohama, Nishi Ward, Nishihiranumacho

at

El Puente

16/07/18

Trieste

at

Rock Camp

14/07/18

Königsee

at

MUR Openair

13/07/18

Stuttgart

at

Club Zentral

02/06/18

Bern

at

Graffiti

29/03/18

Zürich

at

Dynamo Werk21

11/02/18

Stuttgart

at

Kellerclub

10/02/18

Lünen

at

Lükaz

09/02/18

Erfurt

at

From Hell

08/02/18

Prague

at

Underdogs

07/02/18

Vienna

at

Viper Room

06/02/18

München

at

Backstage

05/02/18

Zürich

at

Dynamo Werk21

04/02/18

Rotterdam

at

Baroeg

03/02/18

Lingen

at

Alter Schlachthof

02/02/18

Roeselare

at

De Verlichte Geest

01/02/18

London

at

The Underworld

31/01/18

Eindhoven

at

Dynamo

29/01/18

Wiesbaden

at

Schlachthof

28/01/18

Hannover

at

Mephisto

27/01/18

Esbjerg

at

Konfus

26/01/18

Hamburg

at

Hafenklang

25/01/18

Berlin

at

Musik und Frieden

23/12/17

Zürich

at

Planet 5

16/12/17

Winterthur

at

Gaswerk

02/12/17

Naters

at

Moshp!t Music Club

11/11/17

Aarburg

at

Musigburg

28/10/17

Oberentfelden

at

Böröm Pöm Pöm

21/10/17

Collegno

at

PADIGLIONE 14

07/10/17

Freiburg

at

Slow Club

30/09/17

Pratteln

at

Z7

22/09/17

Lenzburg

at

Met-Bar

16/09/17

Emmendingen

at

You Rock Openair

17/08/17

Hannover

at

Subkultur

16/08/17

Sillenstede

at

Kulturkrug

15/08/17

Bremen

at

Tivoli

13/08/17

Bochum

at

Zeche

11/08/17

Grüna

at

Oberer Gasthof

09/08/17

Herford

at

X-Herford

05/08/17

Brügge

at

Bruges Metal Fest

03/08/17

Zürich

at

Dynamo

28/07/17

Zäziwil

at

Than Rock Openair

26/07/17

Aarburg

at

Musigburg

21/07/17

Unterschächen

at

Rüchä Rock Openair

24/06/17

Bristol

at

Thekla

23/06/17

Dublin

at

Voodoo Lounge

22/06/17

Belfast

at

Limelight 2

21/06/17

Glasgow

at

Audio

20/06/17

London

at

The Underworld

17/06/17

Neunkirchen

at

Stummsche Reithalle

14/06/17

Stuttgart

at

Das Cann

13/06/17

München

at

Backstage

12/06/17

Aschaffenburg

at

Colos-Saal

11/06/17

Eindhoven

at

Dynamo

10/06/17

Bremen

at

Tivoli

09/06/17

Náchod

at

Fun Club Bazzen

08/06/17

Brno

at

Vegalite

07/06/17

Prague

at

Modra Vopice

27/05/17

Beringen

at

Kane's Karaoke

27/05/17

Balzers (LI)

at

Open Hair Metal Festival

29/04/17

Wetzikon

at

Hall Of Fame

22/04/17

Bern

at

Graffiti

15/04/17

Spiez

at

DAS O

08/04/17

Aarau

at

Flösserplatz

27/01/17

Aarau

at

KiFF

21/01/17

St. Gallen

at

Grabenhalle

06/01/17

Zug, 6300

at

Industrie45

03/12/16

Aarau

at

Flösserplatz

19/11/16

Biel

at

Loco Club

29/10/16

Lenzburg

at

Met-Bar

15/10/16

Luzern

at

Sedel

24/09/16

Gladbeck

at

Teestube Rosenhügel

07/09/16

Hüttikon

at

Meh Suff! Festival

13/08/16

Zweisimmen

at

Mannrieder Openair

12/08/16

Muotathal

at

HarVest Festival

25/07/16

Tolmin

at

MetalDays

16/07/16

Boswil

at

Chillout

02/07/16

Zürich

at

Ebrietas

25/06/16

Emmendingen

at

Jugendhaus

18/06/16

Rottenburg am Neckar

at

Jugendhaus Klause

21/05/16

Saignelégier, Jura

at

BFM Brewery

08/05/16

Olten

at

Coq d'Or

02/04/16

Stans

at

Senkel

27/02/16

Wohlen, Aargau

at

Casino Wohlen

16/01/16

Aarau

at

Flösserplatz

23/12/15

Rorschach

at

Treppenhaus

19/12/15

Boswil

at

Chillout

14/11/15

Lörrach

at

Metal Café

31/10/15

Aarau

at

KiFF

30/10/15

Feldkirch

at

Miami

23/10/15

Aarburg

at

Musigburg

16/10/15

Zürich

at

Komplex 457

02/09/15

Zürich

at

Ebrietas

18/06/15

Zürich

at

Dynamo Werk21

06/06/15

Lenzburg

at

Met-Bar

23/05/15

Dubrovnik

at

Lazareti

22/05/15

Pula

at

Club Uljanik

18/04/15

Zürich

at

Ebrietas

28/03/15

Brugg

at

Picadilly

14/03/15

Lugano

at

Il Molino

27/02/15

Aarau

at

Flösserplatz

27/12/14

Klosters

at

Kulturschuppen

08/11/14

Zürich

at

Mundwerk

07/11/14

Amriswil

at

Basement

30/10/14

Bremgarten

at

Deafening Festival

07/08/14

Muotathal

at

HarVest Festival

29/05/14

Winterthur

at

Salzhaus

23/05/14

Lausanne

at

Espace Autogéré

01/05/14

Siebnen

at

District 28

01/03/14

Sursee

at

Kulturwerk 118

19/02/14

Zürich

at

Ebrietas

10/01/14

Aarau

at

Flösserplatz

07/12/13

Obersiggenthal

at

JUGS

20/10/13

Zürich

at

Dynamo Werk21

21/09/13

Zürich

at

Planet 5

08/06/13

Lenzburg

at

Met-Bar

01/06/13

St. Gallen

at

Grabenhalle

16/01/13

Zürich

at

Ebrietas

10/11/12

Aarau

at

Wenk