We're happy to release the yet unreleased song "The Spirit Of The Failed" which is on the "Instruction For Destruction [Japan Edition]". The Album was physically released on August 24th, 2018 via Captured Records on the "Kamikaze – The Spirit of Japan Tour" taking place in Aug/Sep 2018. That's why the new song comes with only the best footage of the Japan tour, available on YouTube exclusively.
Click here to get to the new Video Clip.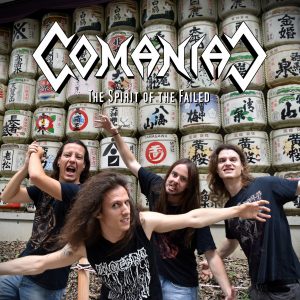 This newest product of crime was originally recorded through the "Instruction For Destruction" recording sessions but was not featured on Comaniacs second album (Release: April 7th 2017).
Get "The Spirit Of The Failed" on Bandcamp or on any digital platform.
For a physical copy hit up our store and order the CD "Instruction For Destruction [Japan Edition]"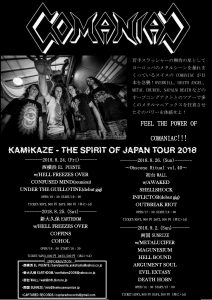 It's been one year since we started the touring circle for our latest record «Instruction for Destruction».
Over 60 Shows in 13 European countries have been an amazing ride for us but now it's time to announce something very special.
At the end of August we are heading over to Japan for the very first time to play another tour, the very first one outside Europe.
We are more than thrilled about this shows and proud to share the stages with some legendary Japanese Heavy and Thrash Metal bands.
We can't wait to see many new faces and places at the following dates:
Kamikaze – The Spirit of Japan Tour 2018
FRI 24.08.18 Yokohama, El Puente
SAT 25.08.18 Shin-Ōkubo/Tokyo, Earthdom
SUN 26.08.18 Shinjuku/Tokyo, Hatsudai Wall
SUN 02.09.18 Ryogoku/Tokyo, Sunrize
A big thank you goes out to METAL BLITZKRIEG, TILL YOUR DEATH Records and Captured Records in Japan as well as Metalworld Switzerland for putting up the dates. It's an honour to be invited in your beautiful country.
Domo arigato gozaimasu!
Mata-ne Nippon!
"Instruction For Destruction" is OUT NOW on SAOL – Service For Artist Owned Labels.
Available in stores and digital since April 7th, 2017 Comaniacs second offering is also available as a limited VINYL edition distributed by METALWORLD.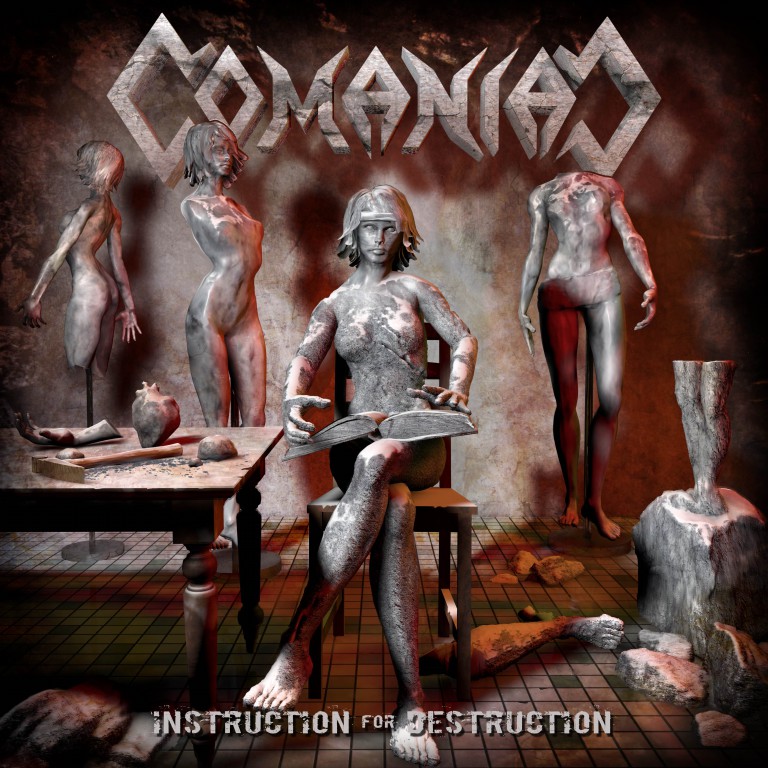 Tracklist:
01 – Coal
02 – Suborned
03 – Bow Low
04 – Guarding Ruins
05 – How To End It All
06 – Self Control
07 – Shattered
08 – Heart Of Stone
09 – Forever More
10 – Instruction For Destruction
Recorded, mixed by Kusi Hospenthal at KHE Recording Studio
Mastered by Dan Suter at Echochamber
Album Artwork by Jan Yrlund at Darkgrove
ORDER CD on Amazon, Saturn, Outsider Shop, Cede.ch and many more
ORDER VINYL on METALWORLD exclusively.
GET DIGITAL on our BANDCAMP site.